Your Booklee page - easy, affordable, efficient
Take control of your business
Create your own direct booking page with Booklee and stop paying high commissions to OTAs
Share your link everywhere
Increase the efficiency of your marketing channels by directing users to your Booklee page
Say goodbye to dealing with programmers, IT companies, or complicated website builders
An affordable direct booking website that's easy to launch, maintain and customize
See all use-cases
"I was surprised how easy it was to create a Booklee page for my guest house.

Now I can easily highlight the things that truly matter - our exceptional reviews, photos and multiple booking options."

Build yourself.
No coding. Live preview.
Drag and drop editor
The best features from both link-in-bio pages and direct booking websites
Auto import data from your listing
Add unlimited links
Customize industry-tailored building blocks
Built for mobile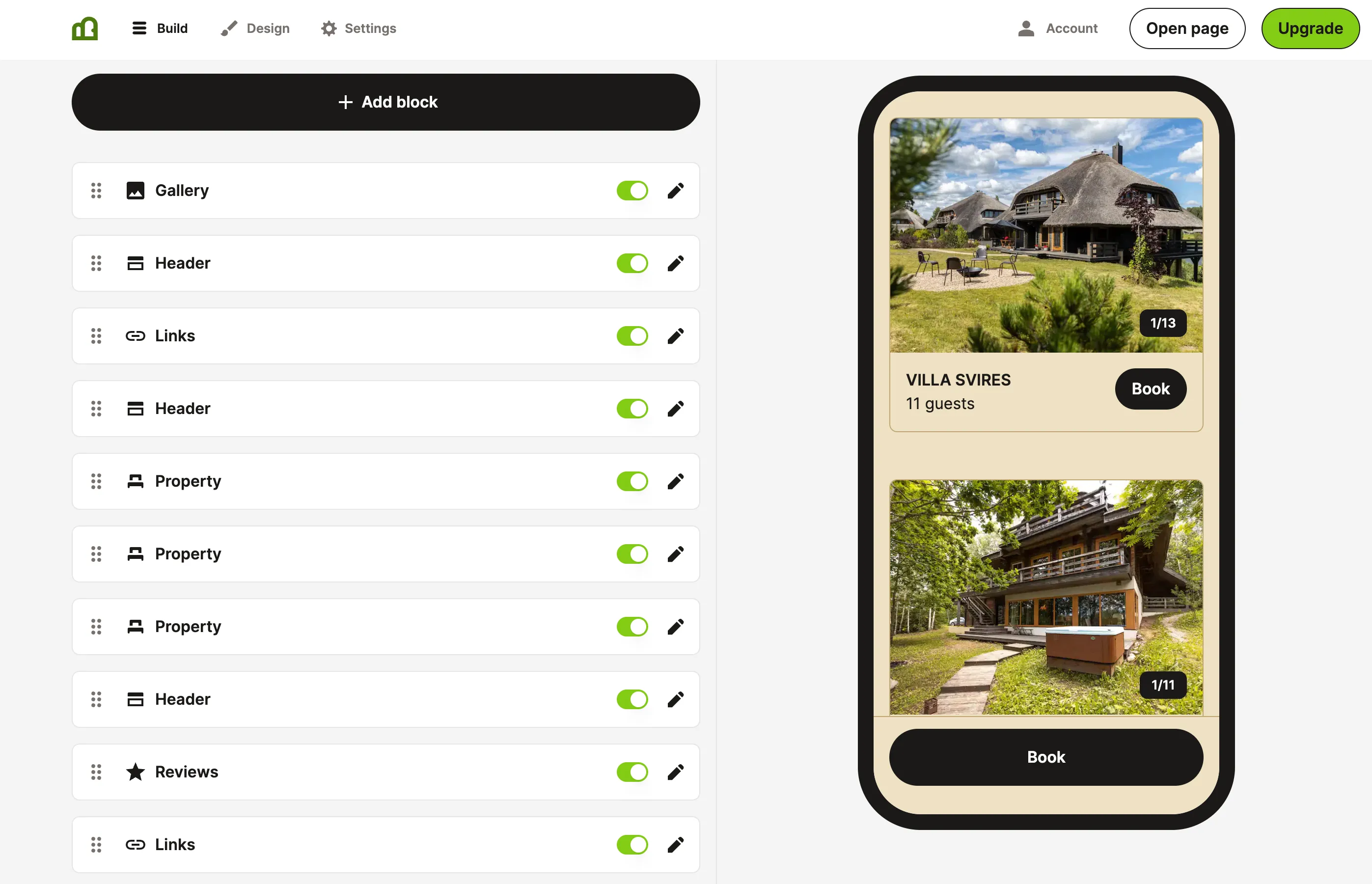 Promote booking directly
Increase conversion with real reviews and provide multiple booking options for guests
Build trust with review aggregator
Display all your properties
Offer multiple booking options
Promote benefits of booking directly
Get creative
Personalize your page for your short term rental or hotel
Choose your link handle
Customise design and layout
Add beautiful galleries
Discover how Booklee can help hosts increase their bookings
Create new or import data from your Airbnb, Vrbo or Booking.com listing
Customise your page with links and ready to use building blocks
Share on social media, email and other direct marketing channels
Build trust and convert lookers into bookers
Integrates with most used tools in hospitality industry
Automatically import reviews and photos to build your Booklee page




Got questions?
What are link in bio pages?
Link in bio pages are web pages linked from a company's bio on social media platforms, like Instagram, TikTok, Facebook and Twitter. They act as a landing page or directory of links where users can find various external links or content shared by the page owner. It overcomes the limitation of having only one clickable link and provides a centralized hub for accessing additional information or specific destinations.
Why my short term rental needs a link in bio page?
The Booklee page proves to be highly valuable when engaging in marketing activities beyond simply listing your property on OTAs like Airbnb. By directing users to your Booklee page, you can effortlessly showcase essential elements such as captivating photo galleries, authentic reviews, convenient booking options, and other pertinent information. This not only enhances the effectiveness of your direct marketing efforts but also helps convert potential guests from mere browsers into enthusiastic bookers. The Booklee page serves as a powerful tool for maximizing your marketing impact and driving successful bookings.
Why can't I just link users to my OTA listing?
While linking straight to OTA platform offers some advantages, it's important to consider also the drawbacks. The most apparent one is missing out on the opportunity to promote booking directly, which would save on commission fees. Additionally, OTA platforms often limit your ability to showcase all the reviews you've received from various channels, potentially depriving potential guests of valuable feedback. Lastly, not all users may prefer or even use the specific OTA you choose, resulting in a loss of potential customers. With a Booklee page you can provide multiple booking options.
Why can't I just link users to my webpage?
While having a dedicated webpage can be beneficial, it's important to consider that webpages often contain an abundance of information, which can overwhelm users and impede their ability to make quick booking decisions. Users nowadays have limited time and seek immediate access to the key information they need to make a decision within seconds. By solely directing users to a webpage, you run the risk of losing potential clients who prefer the convenience of booking exclusively through their preferred OTA platforms such as Airbnb, Booking.com, or Vrbo. It's essential to strike a balance between providing essential information quickly and catering to the preferences of users who rely on trusted OTA platforms for their bookings.
What is the cost of using Booklee service?
Booklee stands out as an exceptionally cost-effective and versatile solution for establishing an online presence for your short-term rental, Airbnb, or hotel. Its user-friendly and intuitive interface ensures a seamless experience, while its pricing, starting as low as $8.97 per month, is transparent with no hidden fees. With Booklee, you can bid farewell to the complexities of engaging IT companies or navigating intricate website builders. It provides a hassle-free experience, enabling you to focus on what matters most – managing your property and delighting your guests.
Visit our Help Centre if you need any help.
Ready to start?
Boost efficiency of your direct marketing and increase direct bookings